New Loyalty Rewards Program!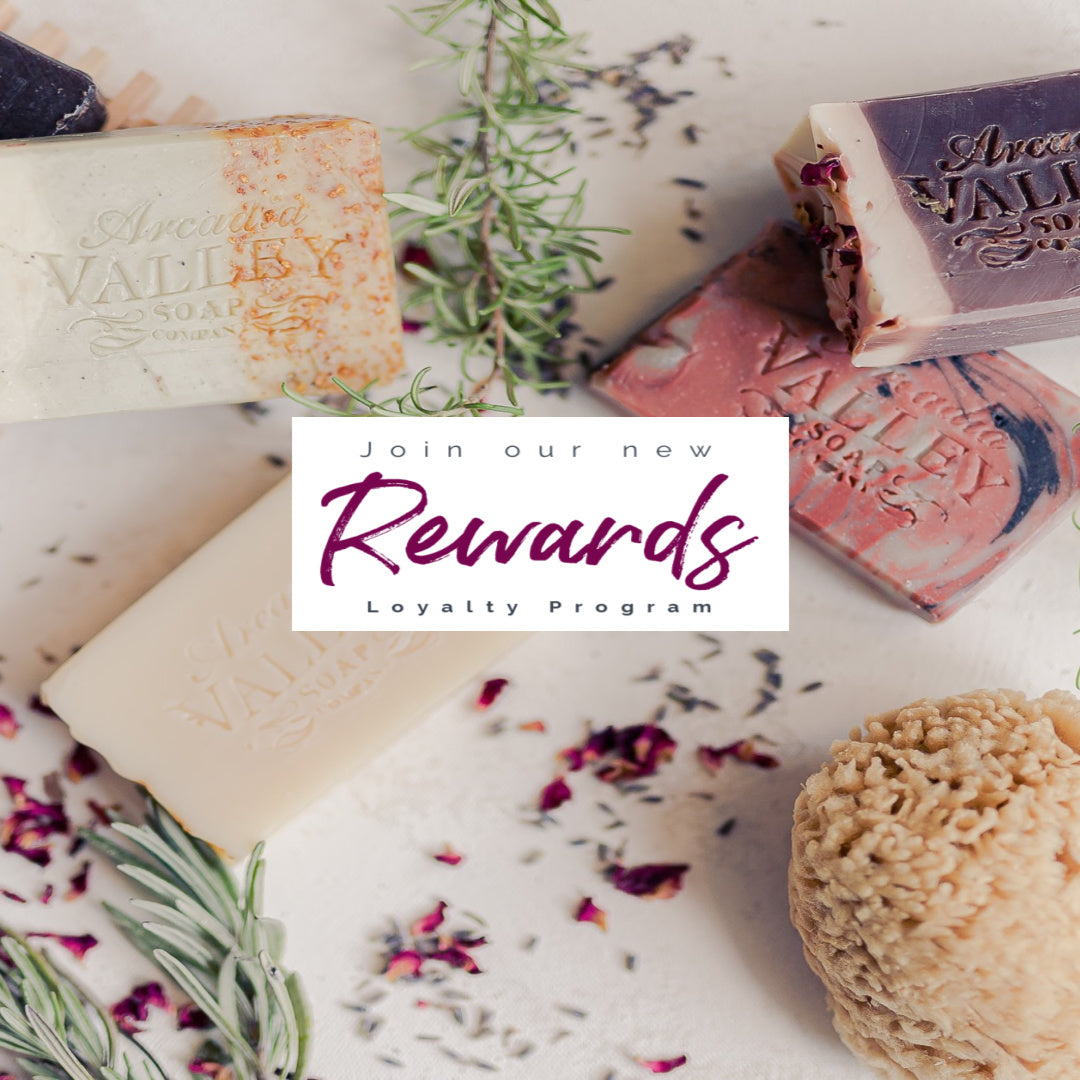 For all my soap fans that shop in the store and here online at ArcadiaValleySoap.com, I am now able to offer you a rewards program. With this program, you can earn points just for signing up and even more when you follow us on Instagram or share our website on Facebook. Plus, get one point for every dollar spent in-store or online. When you've accumulated enough points, redeem them for handmade soaps or any of our handmade body care products like bath bombs, wax melts or lotions, or any of our products.
For the sign up page, Sign Up Here
I think I have most of the kinks worked out and will later add a referral program too but didn't want to overwhelm my brain so quickly...it's easy some days : )  Knowing that many of you already have accounts (thank you very much!), I want to make sure that you receive all the points available to you so below is some information.
Points for Signing Up!  If you already have an account with us, drop me a message and I will ensure you receive 15 points for signing up.  I dislike when you have been a long time customer and suddenly a company offers new deals only for new people!  If you don't have an account with us, I can set you up in the store with simply your name and email but you will need to go online and set up your own password.
Shop with us and review our products! If you have an account with us or your email is on file, then you will receive an email about reviewing our store and product roughly 9 days after you shop with either in store or online.  When you leave a review, you'll receive 75 points.  If you have reviewed us in the past, message me and I'll add the your points to your account.
Points for following us on Instagram - receive points for being an Instagram follower.  If you already follow us, again just drop me a message and I'll add those points to your account.  Another option is to unfollow us, log into your account here on the site, then click the "Follow in Instagram" button and re-follow us.
Points for shopping -  With the 1 point for every dollar spent, you can quickly grow your points.  On average it will work out to around a 5% discount and I am still offering the 10% discount on 10 BARS of soap so that makes it more off.  If you have purchased from us in the last month and have an account, I have tried to add points to your account.  If I missed your transactions, then just stop in or email me, I will set you up with an account and make sure you get your points.
Making this as easy and as fun as possible is my goal.  Now the points are one of the "never expire" things.  IF FOR SOME REASON, I have to end the program, I will round up your points to the nearest redeemable award and give you a gift certificate for the amount you have accumulated.  Another pet peeve of mine is when a business just stops the program that you are in and goes, "Oh Sorry" after you have accumulated so many points....I won't name the airline that disappointed me and I certainly don't want to do that to any of you.
So there's the scoop!  If you have any questions or if there's something you think I should cover more, please message me. 
Thanks for reading and thanks if you join!
Debra