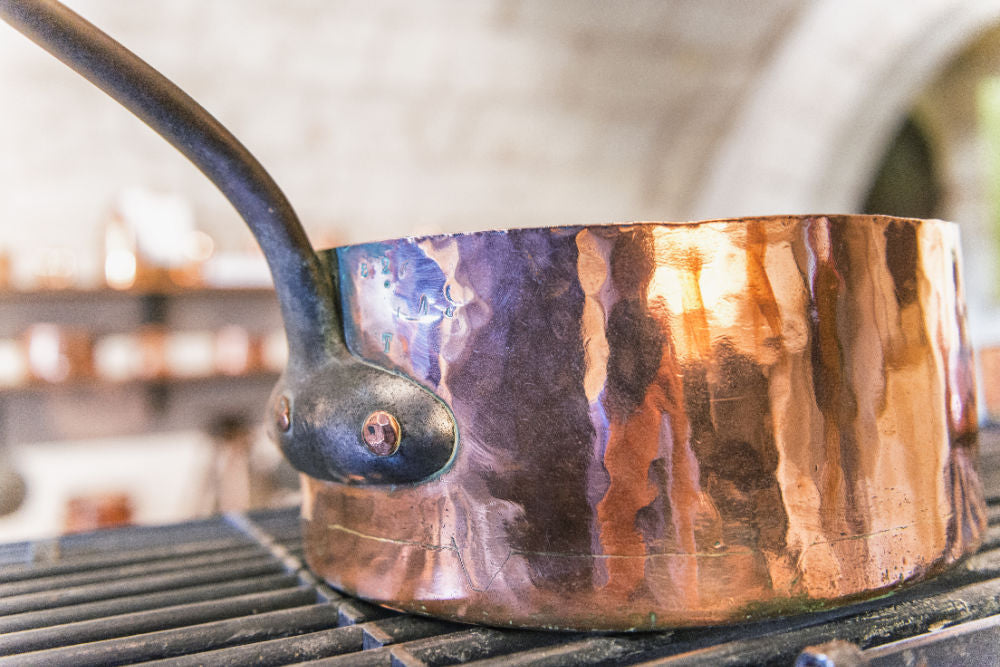 As we work on fixing the shop at 119 S Main, I am also starting to pull together some of my display items.  One of the items for the windows is my great, great grandmother's washing tub which is all copper.  There's a long story behind why it's copper and why it had to be copper but that's for another post.  I figured I would share how it's been kept clean for a number of years.   Lemon trees grew around us plus being in Florida, a pot of salt water made for easy clean up.  But since I don't have lemon trees in my backyard and miss the beach, I thought I would share an old Botanical Earth post I wrote in 2005 about how I keep my copper clean now living in Missouri.  So while my grandmother Mae taught me soap making, she also taught me how to be thrifty and easy on the environment. My grandmothers were eco-friendly, trendy natural care junkies and didn't even know it!
#1 – Start with something that needs to be cleaned.  I'm using one of my sauce pans.  Since I do this all the time, the build up isn't too heavy.  I do wash the pan first with soap and water to remove any grease film or burnt build up – so it's a clean pot with a tarnished copper bottom.
# 2 With a freshly cut lemon wedge, or a splash of lemon juice concentrate, cover the copper area.  I use the actual lemon to do the washing – just squeeze the juice and smear it around.
You'll start to notice a reaction right away the fresher the lemon juice. The photo was taken about 3 seconds after the lemon hit the pan.
Some people even use ketchup because of the acid. To me, lemon is less messy to use and smells better and it will also help brighten brass too if you have some items looking dull.
#3 – Now use simple table salt as a mild abrasive.  Sprinkle just a bit to start and if you are using the lemon wedge, just smear it around again.  Use a soft cloth or sponge too if you prefer.  Do not use wire scrubbies, and I don't even like the plastic nylon scrubbys for this – gentle the better. Focus on any tough areas.  You don't need fancy salts – they don't work any better.
So there you have it – clean and uncleaned with just a bit of lemon juice and salt.  Repeat if necessary for tough spots.  Rinse with water and dry with a soft cloth.
Don't throw the lemon away!  Fill a small bowl with water, drop the lemon in, and place in your microwave for 2 to 3 minutes.  The steam from the water will help loosen any splatters in the microwave, and it will smell lovely from the essential oil in the lemon rind!
Now, compost your lemon rind, you're done cleaning.
There's lots of helpful, inexpensive ways to effectively clean around the house without the toxic or synthetic cleaners.  I'll try every Saturday (as that's my clean up day) to post about cleaning option.
Enjoy this lovely day as tomorrow will remind us that we still have a few more days until Spring!
debra